Loribelle Hunt Spotlight
Loribelle Hunt is a born storyteller. She exploded on the publishing scene in June of this year and already has five books on the virtual shelves with e-publishers
Cobblestone Press
and
Freya's Bower
, including her latest release
Bad Moon Rising
, second in a shape-shifter series. Ms. Hunt is not only prolific, she's versatile, too, dividing her time between military, paranormal, and erotic romance.
Words Used to Describe Her Books
: Hot, as in, set-the-pate-on-fire hot; touchingly tender; anxiously awaited.
Join me today for a question and answer with this exciting new author.
If you had to live out one of your stories, which would it be? Why?
Probably one of the werewolf books. They are so sexy and who wouldn't
like a walk on the wild side? *g*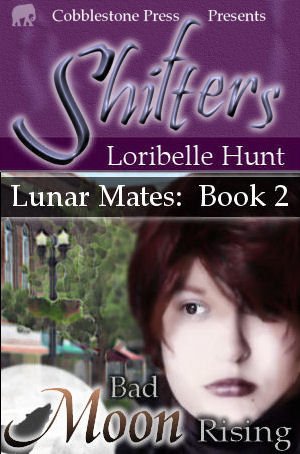 Share with me how you came up with the ideas for a few of your books.
I get ideas from everywhere. Dreams, overheard conversations, what-if
scenarios. My upcoming futuristic idea came from a movie title, an old
Julia Roberts flick, "Sleeping With the Enemy." I wanted to explore the
concept and the story was born.
Do you have a weakness for certain themes, storylines, settings, or
such in your reading and/or writing? What are they?
I love
werewolves. I also tend to write about very strong willed women who
come to learn that relationships are about partnership not giving up a
part of themselves.
Ah, yes. Your Lunar Mates series is about werewolves. Yum! If you could be a werewolf, would you?
I think it would be a blast to try a few times,
but in the long run probably not so fun. LOL. For one you'd have to be
very careful about who you trusted with that secret, and you'd also
always have to have your guard up with your own people. It's fun to
explore in books, but I think it would be a very hard life to actually
live.
Name your top five favorite authors.
This is hard. Suzanne Brockmann, Christine Feehan, Christine Warren, Nevada Barr, and Guy Gavriel Kay
probably are the top five on my 'must buy' list.
Can Hollywood make a good romantic movie?
I think so, but I couldn't really name a recent one. I loved "The Upside of Anger," and it's about
love, but I doubt most people would call it a romantic movie.
Tell me something about you that very few people know.
I really am an open book lol. There can't be much y'all don't know about me. LOL!
What's your favorite animal at the zoo?
I love wolves. *g* I also love the big cats-tigers, lions, leopards, etc.
Is there a skill you don't have, but wish you did?
I've wanted to jump out of an airplane for years. I had a broken leg when the chance came up in the Army, so that was definitely out lol. I'll do it one of these days. ;)
If you could do the nasty with anyone, living or dead, who would it
be? Why?
How 'bout fictional? Cassanova would be nice. *g* You have
to wonder if would live up to the reputation. Or living, I'd have to say Vin. He's not traditionally good looking, but very sexy.
I want to thank Loribelle for her time and encourage you all to visit her
website
.
Labels: Author Spotlights